Umami Chocolata Panna Cotta, Maple Bacon Crisp
Print
Umami Chocolate Panna Cotta, Maple Bacon Crisp
---
Description
Umami rich mushrooms are steeped in rich chocolate than blended together for a smooth and creamy dessert topped with maple infused bacon crisps.
---
Scale
Ingredients
3

pounds portabella

3

pounds maitake

4

pounds high quality chocolate (71%)

2

liters heavy cream

2

liters milk

10

sheets gelatin

2 cups

sugar

2 cups

maple syrup

1

pound bacon

1

pound king trumpet mushroom

1

pound rice flour
salt and pepper
---
Instructions
Finely chop chocolate and place in a large metal mixing bowl.
In a large pot over medium heat, simmer sugar, milk and cream. Do not stir.
Roughly chop maitake and portabella mushrooms. Add chopped mushrooms to warm milk and sugar mixture. Steep for 5-8 minutes.
Bloom 10 sheets of gelatin (soak in cold water for 4-5 minutes). Squeeze out any excess water.
Add limp gelatin to chocolate and whisk together.
Place bacon on baking sheet. Bake in oven until crisp. Drizzle with maple syrup while still hot.
Using an immersion blender, blend mushroom and milk mixture until foamy.
Pour milk mixture through strainer or seeve into bowl with chopped chocolate and gelatin. Discard strained mushrooms. Whisk ingredients until chocolate is melted and gelatin is well incorporated.
Place bowl in a large ice bath to bring mixture to room temperature.
Ladle mixture into ramekins, bowls, or cups.
Chill until panna cotta is set. Mix together flour, water, salt to form a batter. Using a mandolin, slice king mushrooms lengthwise. Dip mushrooms into tempura batter. Deep fry until the batter is crispy and mushroom is soft.
To plate, place chilled panna cotta cup on plate and top with a tempura king mushrooms. Place bacon on plate alongside the cup. Drizzle with more maple if desired.
---
If you like this, try these:
Sheet Pan Mushroom Fajitas from Chelsey Amer, MS, RD are a Mexican-inspired one-pan meal that's simple, delicious, and nutritious for the entire family to enjoy.
view Recipe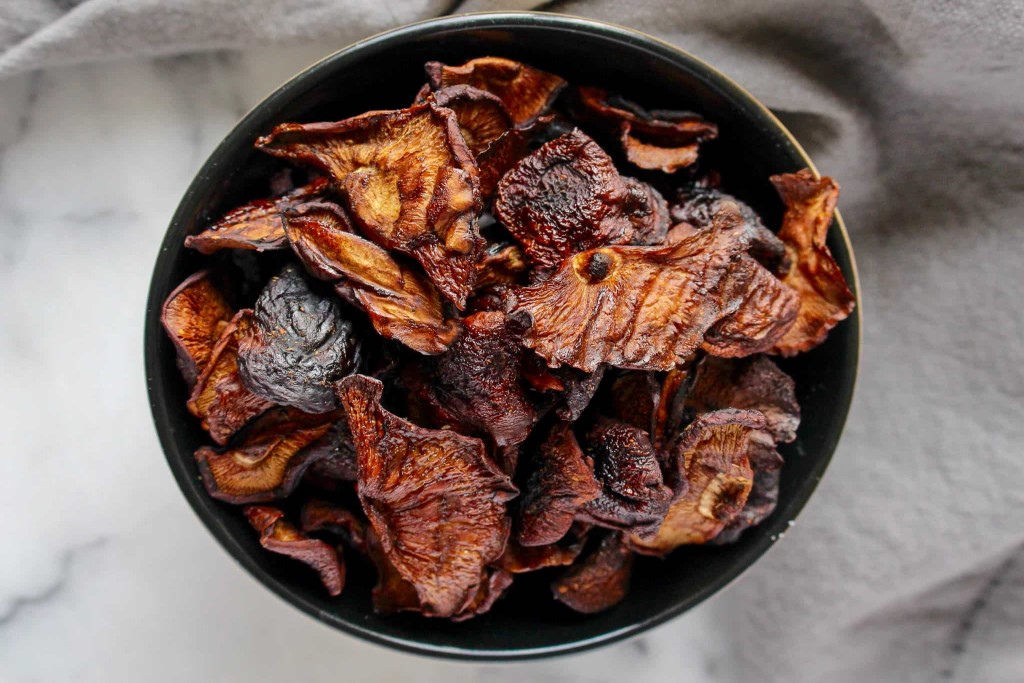 Mushrooms will become your new favorite snack with this vegetarian jerky recipe from Chelsey Amer, MS, RD!
view Recipe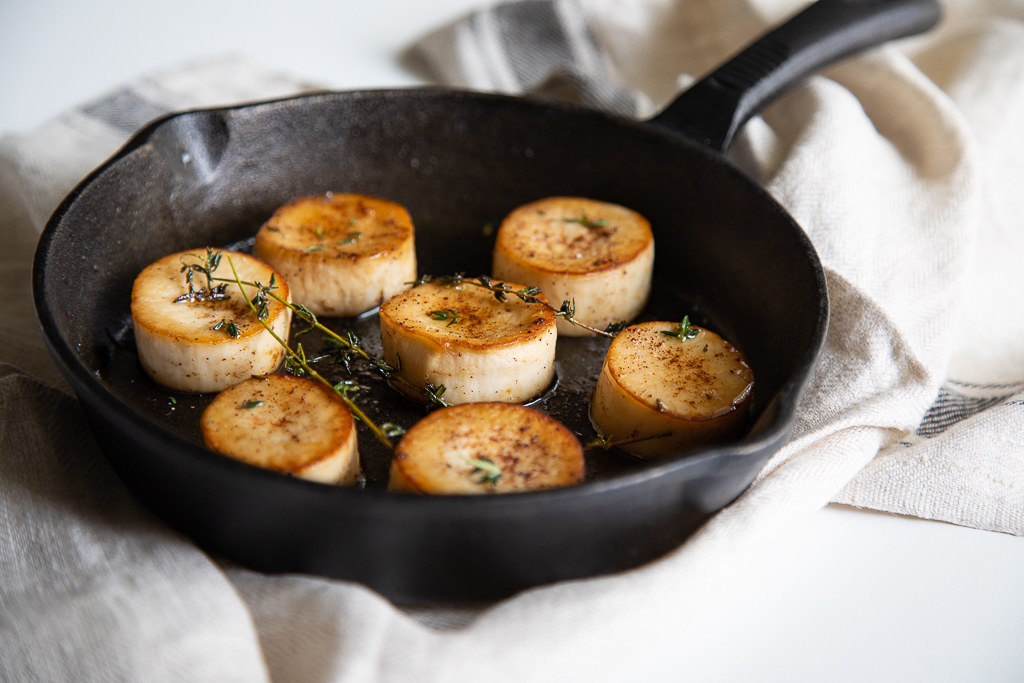 Add a creative twist to your meal with these vegetarian scallops made from trumpet mushrooms. The mushroom scallops are browned and cooked until tender. A drizzle of nutty, caramelized brown butter and vibrant thyme send them over the top!
view Recipe