Loaded Veggie Nachos
Print
---
Description
Loaded with veggies such as finely chopped mushrooms,avocado, tomatoes and peppers, this recipe nacho recipe is light and perfect for lunch. Serve with a dollop of Greek yogurt instead of sour cream.
---
Ingredients
1 teaspoon olive oil
1 clove garlic, minced
10 ounces white button mushrooms or baby bella mushrooms, diced (about 2 ½ cups diced)
1 teaspoon cumin
½ teaspoon smoked paprika
¼ teaspoon black pepper
1/8 teaspoon salt
4 ounces tortilla chips
4 ounces Cabot Jalapeño Light or Pepper Jack cheese, shredded
12 ounce jar roasted red peppers, chopped (about ¾ cup chopped)
1 avocado, pitted and diced
¾ cup diced tomatoes
2 tablespoons nonfat Greek yogurt
1 jalapeno, sliced for garnish
Cilantro for garnish
---
Instructions
In a large skillet, heat oil over medium heat. Add garlic; sauté for 1 minute, stirring frequently. Add mushrooms, cumin, smoked paprika, black pepper and salt. Sauté for 12-15 minutes or until mushrooms are cooked down. Drain in a mesh sieve and set aside.
Turn on broiler.
Arrange tortilla chips on a baking sheet. Layer with mushrooms and cheese. Place under broiler and cook until cheese starts to melt (about 1 ½ – 2 minutes) Keep your eye on the broiler as cooking times may be different depending on your broiler, where your oven rack is positioned, etc.
Remove from broiler and layer with red peppers, tomatoes and avocado. Garnish with jalapeño slices and cilantro. Serve immediately.
If you like this, try these: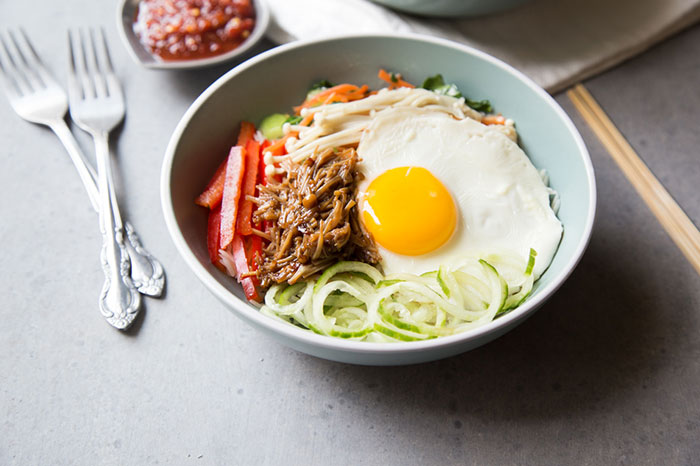 This recipe provides a meat-free twist on the traditional Korean dish. Finely chopped enoki mushrooms absorb the sweet and savory flavors of the marinade and pair well with the combination sautéed greens and crisp fresh cucumber to create a filling meal.
view Recipe
A flavorful mix of crimini, shiitake, and white button mushrooms are sautéed in a crisp, dry white wine before they are layered on the pizza with mozzarella cheese.
view Recipe
This stir fry is loaded with fresh vegetables. A hint of orange and honey add a pleasant balance to the soy sauce. Earthy shiitake mushrooms and smoked tofu finish off the dish with deep, rich flavors.
view Recipe