Mushroom Larb
Print
---
Description
Wrap this delicious mushroom larb in cabbage leaves for an easy and satisfying meal.
---
Ingredients
1/2 of an orange zested and juiced
1/2 of a lime zested and juiced
2 tablespoons olive oil
2 tablespoons tamari or soy sauce
1 teaspoon grated fresh ginger
1 tablespoon olive oil
two 8-ounce packages white button or crimini mushrooms, cleaned and chopped (I pulsed in my food processor)
1/4 cup chopped fresh cilantro
1/4 cup chopped fresh mint
1/4 teaspoon crushed red pepper flakes
1/4 teaspoon salt
Cabbage leaves, shredded carrots and additional chopped fresh cilantro and mint
2 tablespoons natural peanut butter (optional)
---
Instructions
Combine orange zest and juice, lime zest and juice, oil, tamari and ginger; set aside.
Heat olive oil over medium-high heat in a large skillet; add mushrooms and saute 5 to 7 minutes or until caramelized. Add 2 to 3 tablespoons of reserved juice mixture to pan, scraping to loosen browned bits from bottom of pan. Season with cilantro, mint, red pepper and salt.
Serve mushrooms warm with cabbage leaves and additional toppings for wrapping and scooping. If desired, combine peanut butter with remaining juice mixture to serve as a thicker dressing/dipping sauce or serve sauce as is.
If you like this, try these: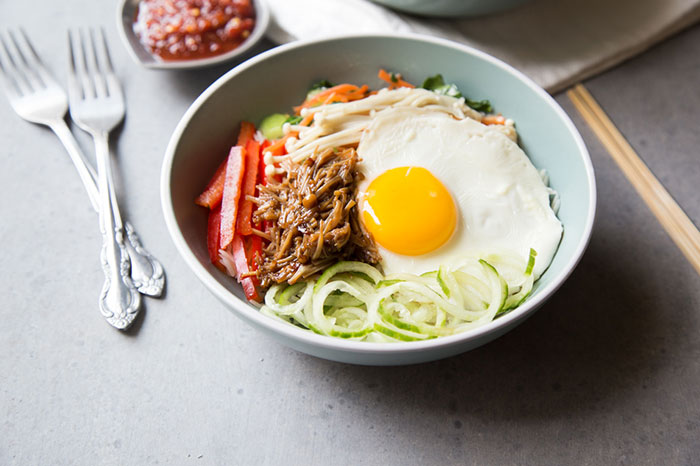 This recipe provides a meat-free twist on the traditional Korean dish. Finely chopped enoki mushrooms absorb the sweet and savory flavors of the marinade and pair well with the combination sautéed greens and crisp fresh cucumber to create a filling meal.
view Recipe
A flavorful mix of crimini, shiitake, and white button mushrooms are sautéed in a crisp, dry white wine before they are layered on the pizza with mozzarella cheese.
view Recipe
This stir fry is loaded with fresh vegetables. A hint of orange and honey add a pleasant balance to the soy sauce. Earthy shiitake mushrooms and smoked tofu finish off the dish with deep, rich flavors.
view Recipe