Pasta with Asparagus and Creamy Mushroom Sauce
Print
Pasta with Asparagus and Creamy Mushroom Sauce
---
Description
Traditional creamy mushroom sauces usually contain butter, heavy cream and cheese. This version is vegan, gluten-free, dairy-free and made with clean, healthy ingredients.
---
Ingredients
1 pound cooked organic pasta (16 ounces, gluten-free, if necessary)
For the asparagus
12 stalks organic asparagus (diced)
2 teaspoons organic extra-virgin olive oil
2 cloves organic garlic (freshly crushed)
1 – 2 pinch Himalayan pink salt
For the sauce
4 cups organic crimini mushrooms (or white button mushrooms)
1 1/2 cup organic cashews
1 1/2 cup distilled/purified water
4 cloves organic garlic (freshly crushed)
2 tablespoons organic shallots (diced)
1 1/2 teaspoon organic dried rosemary
1 tablespoon organic extra-virgin olive oil
1 teaspoon Himalayan pink salt
---
Instructions
Prepare the pasta: Prepare the pasta according to the package directions. Set aside.
Prepare the asparagus: In a skillet, add all the ingredients for the asparagus (diced asparagus, olive oil, garlic, Himalayan pink salt) and saute on high heat for 2 – 3 minutes. Set aside.
Prepare the sauce: Add all the ingredients for the mushroom sauce to a Vitamix and blend until creamy and smooth. Adjust seasonings, if needed.
Assembly: In a large mixing bowl, add the cooked pasta, diced/sauteed asparagus and mushroom sauce together and gently toss until it is well combined.
Best when served immediately.
If you like this, try these: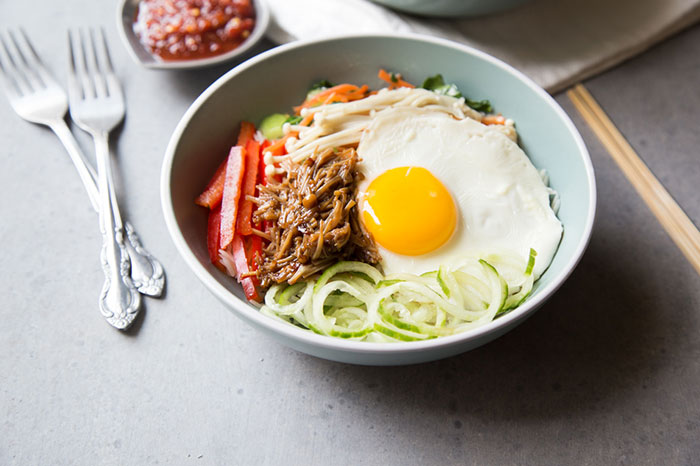 This recipe provides a meat-free twist on the traditional Korean dish. Finely chopped enoki mushrooms absorb the sweet and savory flavors of the marinade and pair well with the combination sautéed greens and crisp fresh cucumber to create a filling meal.
view Recipe
A flavorful mix of crimini, shiitake, and white button mushrooms are sautéed in a crisp, dry white wine before they are layered on the pizza with mozzarella cheese.
view Recipe
This stir fry is loaded with fresh vegetables. A hint of orange and honey add a pleasant balance to the soy sauce. Earthy shiitake mushrooms and smoked tofu finish off the dish with deep, rich flavors.
view Recipe