Roasted Brussels Sprouts with "Baby Bella" Bacon Bits
Print
Roasted Brussels Sprouts with "Baby Bella" Bacon Bits
---
Description
This recipe is unique since the bacon bits are actually crimini mushroom slices, slow-roasted until crisped, and spiced just right. The dish may just be the talk of the dinner table.
Recipe courtesy of Chef Jackie Newgent, RDN, CDN.
---
Scale
Ingredients
Brussels Sprouts
1 1/2

pounds medium Brussels sprouts, trimmed, and halved lengthwise

3 tablespoon

s extra-virgin olive oil, or to taste

1 teaspoon

aged balsamic vinegar

3/4 teaspoon

freshly ground black pepper

1/2 teaspoon

sea salt, or to taste

1

recipe Baby Bella Bacon Bits (see below)
Baby Bella Bacon Bits
2 teaspoon

s turbinado (raw) sugar

1/4 teaspoon

+

1/8 teaspoon

sea salt

1/4 teaspoon

+

1/8 teaspoon

smoked paprika

1/4 teaspoon

chili powder

1/4 teaspoon

garlic powder

8 ounce

s crimini (baby bella) mushrooms, stems removed*, thinly sliced (1/8-inch thick)

2 tablespoon

s extra-virgin olive oil
---
Instructions
Brussels Sprouts
Preheat the oven to 425°F. Toss together the Brussels sprouts, oil, vinegar, pepper, and salt in a large bowl. Transfer to a large rimmed baking sheet and arrange in a single layer, cut side up.
Roast until well caramelized and just tender on the inside, about 25 minutes, flipping over Brussels sprouts halfway through the roasting process. If desired, sprinkle with additional extra-virgin olive oil and sea salt.
Transfer to a serving platter or bowl, sprinkle with the Baby Bella Bacon Bits, and serve immediately.
Baby Bella Bacon Bits
Preheat the oven to 275°F. Stir together the sugar, salt, paprika, chili powder, and garlic powder in a small bowl.
Add the mushrooms to a medium bowl, drizzle with the oil, and toss to fully coat. Sprinkle with the seasoning mixture and toss to fully coat. Arrange in a single layer on a large nonstick baking sheet.
Roast until reduced in size by about 50 percent and deeply caramelized, about 1 hour 15 minutes. There's no need to stir or flip over during roasting. Scrape up mushrooms with a spatula to make sure they're not sticking to the pan; rearrange in a single layer; turn off oven; and return to the warm oven for 45 minutes, to allow to crisp.
Remove from the oven and cool the baby bella bacon bits on the pan on a rack to allow to further crisp, at least 15 minutes, and serve. If desired, prepare and store in the refrigerator overnight; bring to room temperature before serving.
*Save mushroom stems for other cooking purpose.
---
If you like this, try these: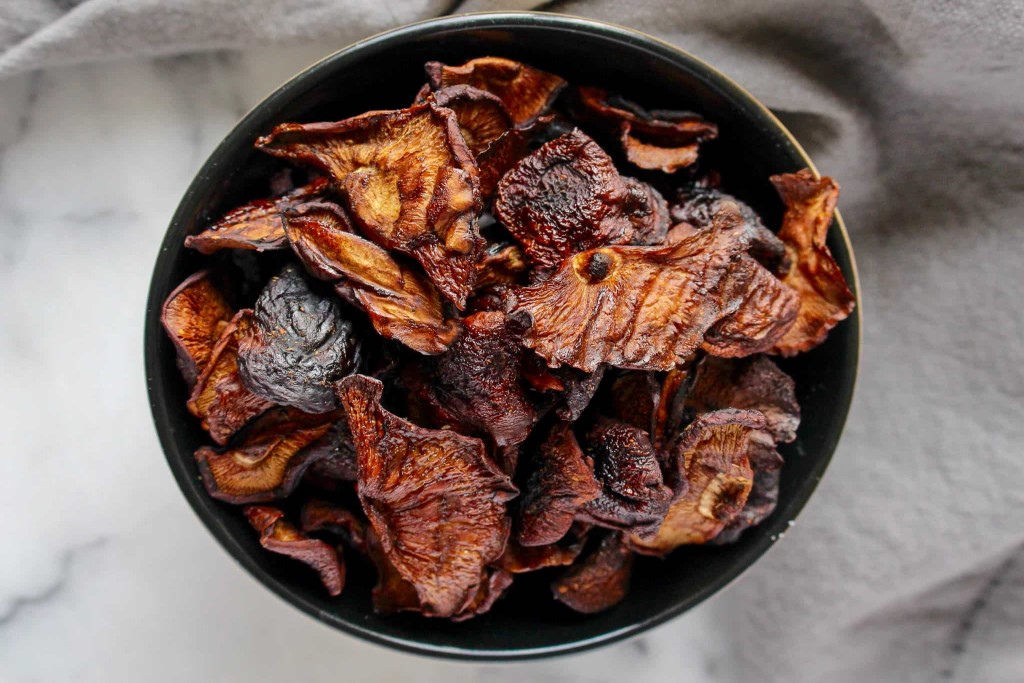 Mushrooms will become your new favorite snack with this vegetarian jerky recipe from Chelsey Amer, MS, RD!
view Recipe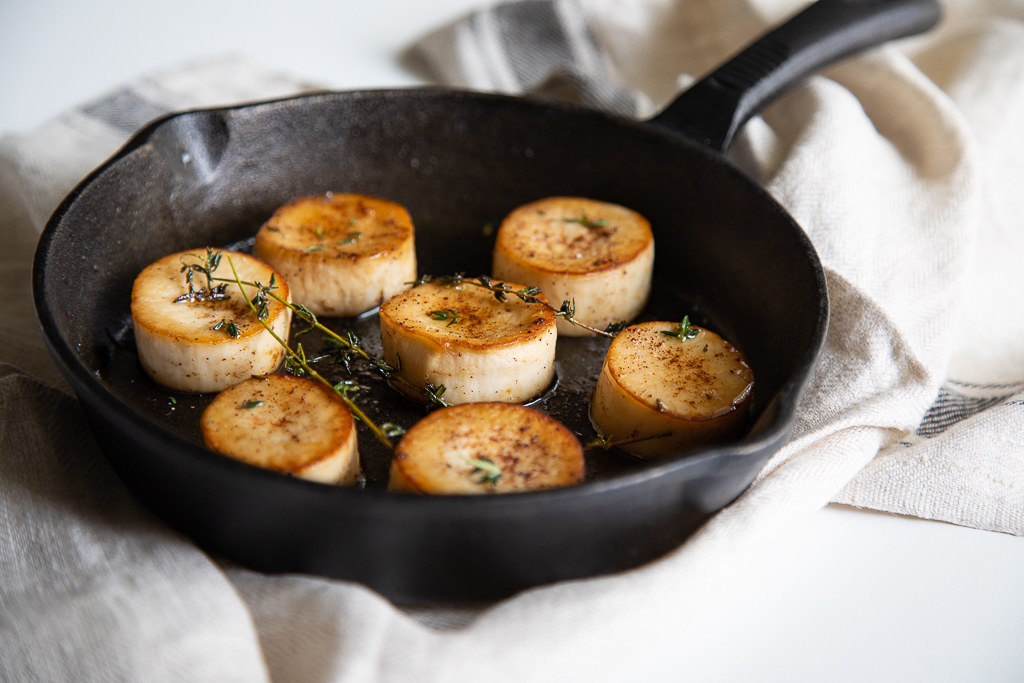 Add a creative twist to your meal with these vegetarian scallops made from trumpet mushrooms. The mushroom scallops are browned and cooked until tender. A drizzle of nutty, caramelized brown butter and vibrant thyme send them over the top!
view Recipe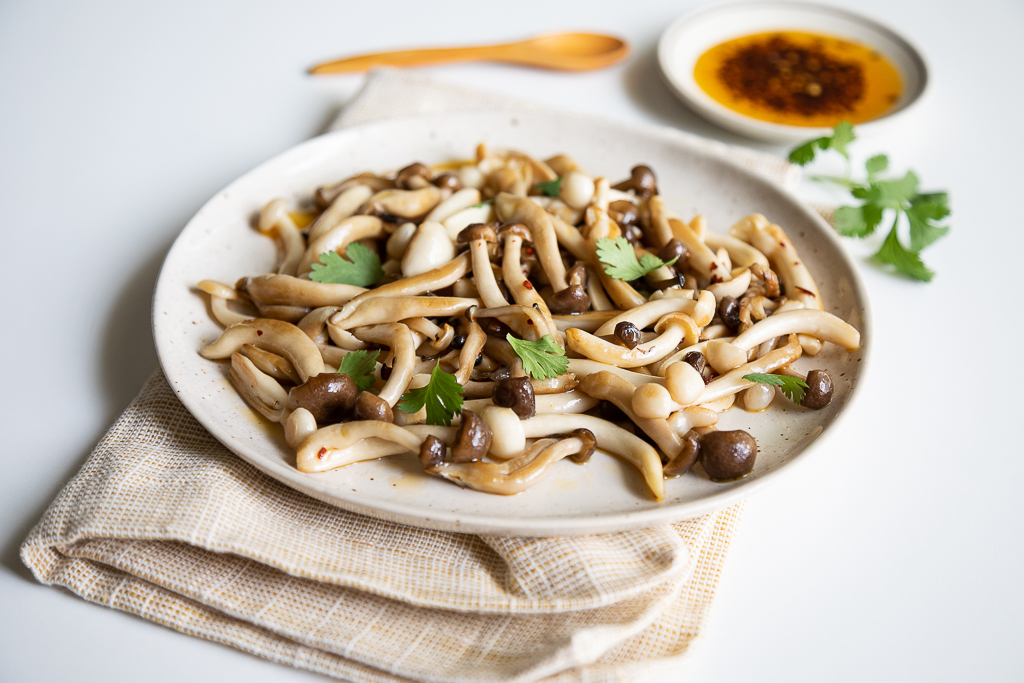 These mushrooms get a kick of spicy flavor from homemade chili oil! They can be served over grilled steaks or roasted poultry to add earthy heat to a special dinner.
view Recipe