Seven-Minute Spring Ramen Bowl
Print
Seven-Minute Spring Ramen Bowl
Author:

Yield:

2
---
Description
Brooke from Cheeky Kitchen shares an updated veggie-filled version of a college staple, without losing the college budget.
---
Ingredients
1 packet ramen, chicken flavored
½ cup asparagus spears, cut to 3" length
1 ½ cup sliced mushrooms
2 ½ tablespoon sesame, avocado, or olive oil
½ teaspoon lemon pepper
2 cups water
1 tablespoon vinegar
2 eggs
2 tablespoon scallions
2 tablespoons cilantro
---
Instructions
In a medium pot, cook ramen according to package directions. One minute before ramen is done, toss asparagus spears in to the pot. Transfer to two bowls.
Add mushrooms and oil to the pot. Turn stove burner to medium-high heat. Spread mushrooms flat on the bottom of the pot, sprinkle with lemon pepper, and cook until golden brown. Transfer mushrooms to soup bowl.
Add 2 cups of water to pot. Bring to a boil.
Add vinegar to boiling water, then gently crack one egg on each side of the pot. Immediately turn off burner, but leave the pot on the hot burner.
Use a fork to gently pull the eggs whites toward the center of your egg, giving it a nice round shape. Allow eggs to sit in hot water for 4 minutes, then use a large slotted spoon to gently remove and place one egg on top of each ramen bowl.
Garnish bowls with chopped scallions and cilantro.
Serve immediately and enjoy!
If you like this, try these:
This recipe uses a blend of lean ground turkey and white button mushrooms to create a hearty filling for tender sweet potatoes. Skip the oven and simply microwave the potatoes until tender for a quick dinner. Pair with a simple salad for a meal.
view Recipe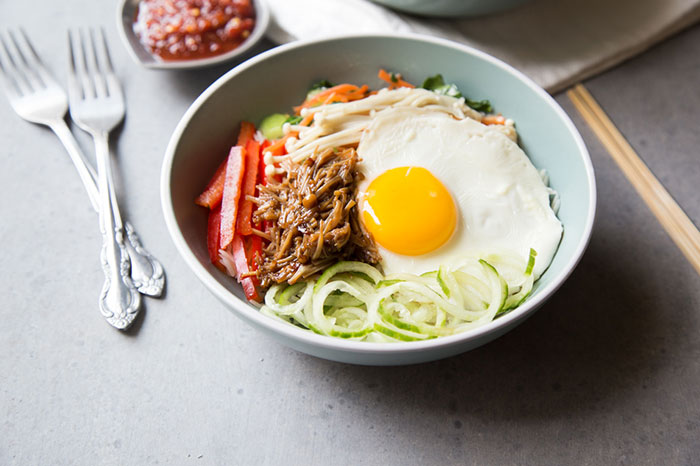 This recipe provides a meat-free twist on the traditional Korean dish. Finely chopped enoki mushrooms absorb the sweet and savory flavors of the marinade and pair well with the combination sautéed greens and crisp fresh cucumber to create a filling meal.
view Recipe
A flavorful mix of crimini, shiitake, and white button mushrooms are sautéed in a crisp, dry white wine before they are layered on the pizza with mozzarella cheese.
view Recipe