Szechuan Mushroom Stir-Fry with Steamed Rice
Print
Szechuan Mushroom Stir-Fry with Steamed Rice
---
Description
This fast and tasty vegetarian stir-fry is a hit even among the meat-eaters due to the meatiness of the portabella mushrooms.
---
Scale
Ingredients
Stir-Fry
1/2

pound portabella mushrooms, thinly sliced

1 1/2 teaspoon

ground cumin

1/2 teaspoon

ground black pepper

1 cup

green beans

2 tablespoons

garlic, minced

1 tablespoon

ginger, minced

2

chile

1/4 cup

peanut oil

1/2 cup

scallion, green part, cut 1 inch long

1 teaspoon

soy sauce

1/2 teaspoon

dark mushroom soy sauce

2 tablespoons

oyster sauce

2 tablespoons

water
Steamed Rice
4 cups

Jasmine rice

5 cups

water
---
Instructions
Stir-Fry
Coat the sliced portabella mushrooms with the cumin and black pepper, mixing well.
Cut the green beans unto 2-inch sections. Blanch in boiling water for 2 minutes; drain, shock in iced water and reserve.
Gather all of the ingredients in small bowls and stack, top to bottom, in the following sequence: oil, mushrooms, ginger, garlic and chiles together, scallion, green beans and all the liquid ingredients combined.
Heat a wok until very hot and add the peanut oil, swirling to coat the interior of surface of the wok.
Push the mushroom up the wall of the wok and add the entire bowl of ginger, garlic and whole chiles.
Add the scallions and fry another 10 seconds, stirring to combine.
Add the green beans and toss to combine.
Add the sauce mixture all at once and remove the wok from the heat. Toss and stir all of the ingredients to combine. Return the wok to the heat to reduce the sauce if it does not form a slightly thickened glaze. Plate and serve with steamed rice.
Steamed Rice
Place the rice grains in a large bowl and run cool water to rinse off the excess starch. Drain the water and place the washed rice in a pot with a lid.
Add 5 cups of water and turn the heat to high. When the water come to a simmer, reduce the heat and cover with the lid. Allow the rice to cook for 15 minutes.
Turn the heat off and allow the pot to stand for an additional five minutes to help steam the rice. Fluff with fork and serve.
If you like this, try these:
Portabella mushrooms make a delicious vegan taco filling in this recipe developed by Carlene Thomas, RD.
view Recipe
Sheet Pan Mushroom Fajitas from Chelsey Amer, MS, RD are a Mexican-inspired one-pan meal that's simple, delicious, and nutritious for the entire family to enjoy.
view Recipe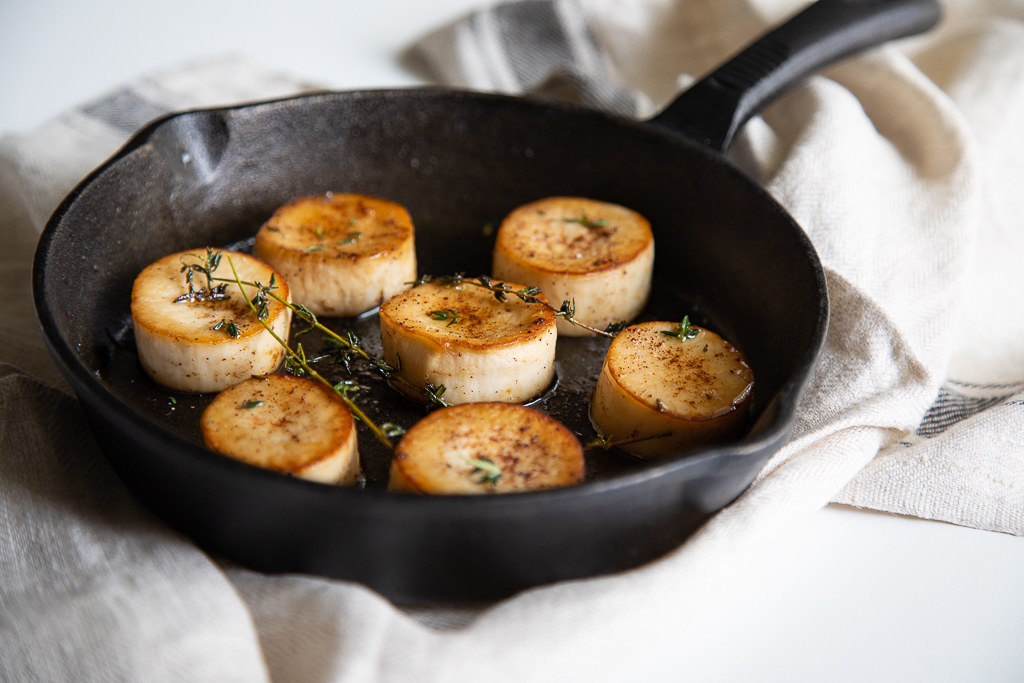 Add a creative twist to your meal with these vegetarian scallops made from trumpet mushrooms. The mushroom scallops are browned and cooked until tender. A drizzle of nutty, caramelized brown butter and vibrant thyme send them over the top!
view Recipe