Blended Asian Beef Bowl with Cucumber and Carrot Salad
Print
Blended Asian Beef Bowl with Cucumber and Carrot Salad
---
---
2 Cups cooked, jasmine rice
2 Tablespoons honey
1/4 Cup reduced sodium tamari or soy sauce
2 Tablespoons sesame oil
1 Tablespoon rice wine vinegar
1/2 Teaspoon crushed red-pepper flakes (optional)
1/4 Teaspoon fresh grated ginger
2 Tablespoons avocado oil
8 Ounces crimini mushrooms, finely chopped*
1 cloves garlic, minced or grated
1/2 diced yellow onion
1 Pound ground beef
1/4 Cup chopped cilantro
1/4 Cup chopped cashews
Cucumber and Carrot Salad
1 large English cucumber, spiralized or thinly sliced
2 large carrots, spiralized or thinly sliced
1 Tablespoon rice wine vinegar
1 Tablespoon lime juice
1/2 Teaspoon lime zest
1 Tablespoon honey
1 Teaspoon sesame oil
salt and pepper to taste
---
Instructions
In a small bowl, whisk together honey, soy sauce, sesame oil, red pepper flakes and ginger.
Heat one tablespoons of avocado oil in a large skillet over medium high heat. Add the mushrooms and sauté for 2-3 minutes, to brown. Remove the mushrooms from the pan and set aside.
In the same pan, add the remaining oil along with the onion and garlic and cook until fragrant, about 2 minutes. Add ground beef and cook until browned, about 3-5 minutes, making sure to crumble the beef as it cooks; drain excess fat.
Add the mushrooms back to the pan and stir to combine.
Stir in the sauce and simmer until heated through, about 2 minutes.
Serve immediately, with the rice. Garnish with cilantro and cucumber and carrot salad.
Cucumber and Carrot Salad: In a large bowl, whisk together the rice wine vinegar, lime juice, lime zest, honey and sesame oil. Season with salt and pepper. Add the cucumber and carrot to the bowl and toss together.

*to chop the mushrooms, pulse in a food processor, stems and caps, until they form a ground-beef like texture.
---
If you like this, try these:
One of our most flavorful burgers yet! Combine Mexican chorizo, beef and mushrooms for an umami-packed burger.
view Recipe
Put a spin on a fast food fave by incorporating a blend of ground beef and crimini mushrooms to take the flavor to the next level.

view Recipe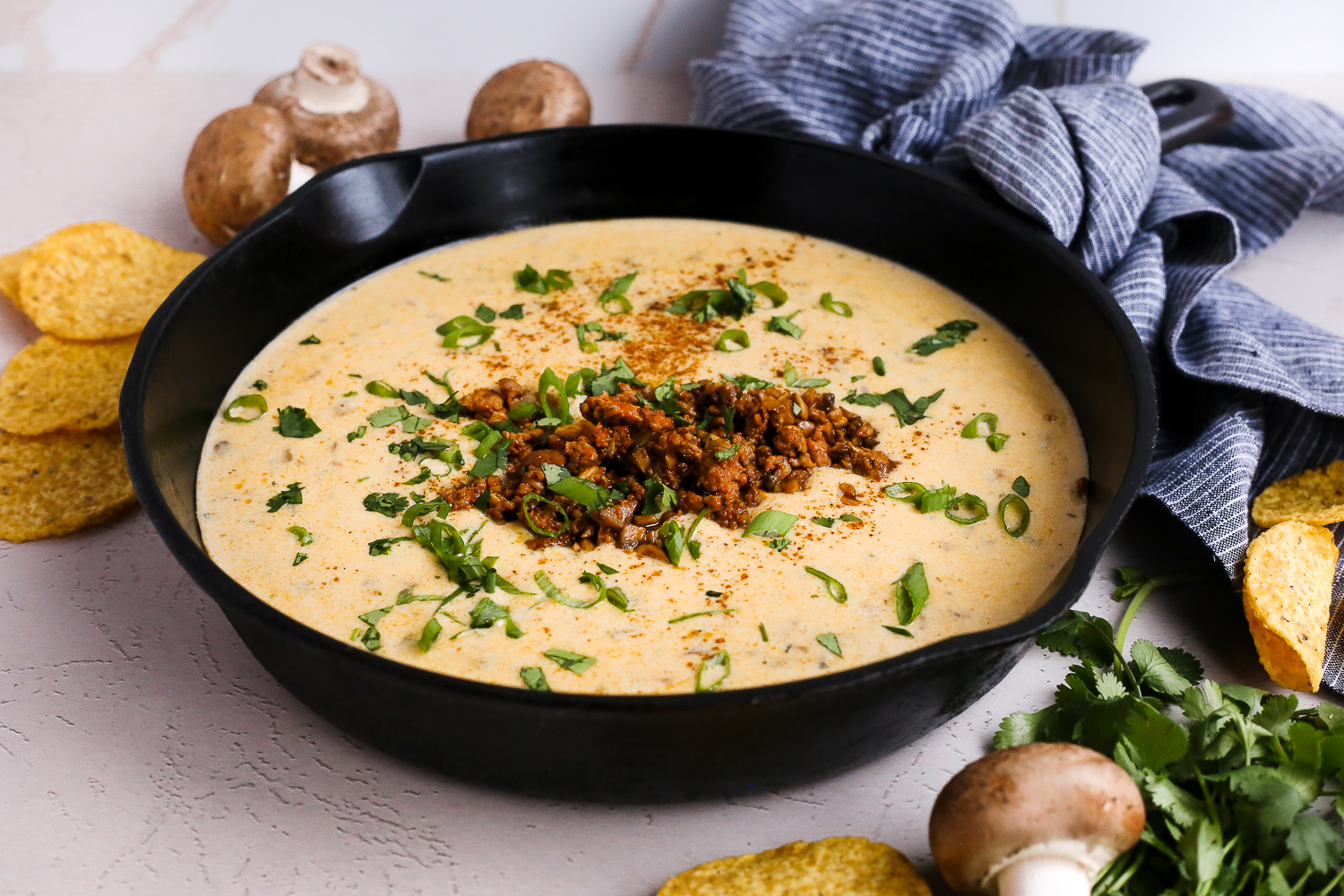 Cheesy, spicy, and savory queso using The Blend! 
view Recipe