Print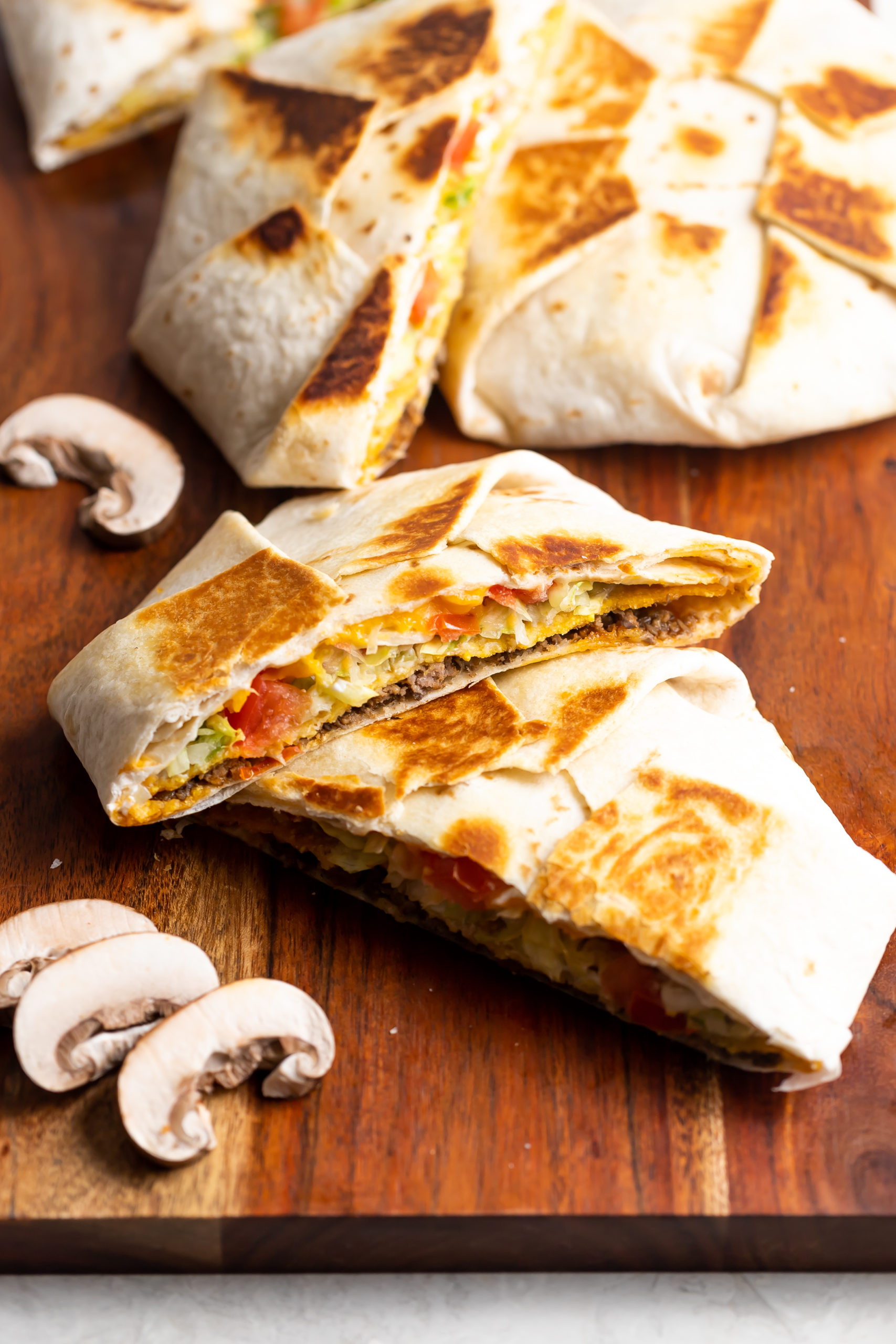 Prep Time

15 minutes

Cook Time

20 minutes

Total Time

35 minutes

Yield

6

crunchwraps

1

x
Shop for Ingredients
Make a list for the store or order online.
2 tablespoons

olive oil, divided

1/2 cup

finely chopped yellow onion

8 ounces

crimini mushrooms, finely chopped

1/2

lb lean ground beef

1 tablespoon

taco seasoning

1/3 cup

nacho cheese sauce

6

burrito-size flour tortillas (~10-inch)

6

mini soft taco-size flour tortillas (~4.5 inch)

6

tostada shells

Sour cream

Shredded lettuce

Diced tomatoes

Shredded Mexican cheese blend
In a large skillet, heat olive oil over medium-high heat. Cook onions for 1-2 minutes until translucent. Add finely chopped crimini mushrooms and ground beef. Cook for about 5 minutes or until the beef is no longer pink. Stir in the taco seasoning. Cook for another 2-3 minutes. Set aside.

Lay one flour tortilla on a flat surface. Spread 2 tablespoons of the mushroom-meat mixture onto the center of the burrito size flour tortilla.

Drizzle a dollop of nacho cheese over the mushroom-meat mixture. Top meat with 1 tostada shell then spread a thin layer of sour cream over the tostada shell.

Top with a small handful of shredded lettuce, diced tomatoes, and shredded Mexican cheese then a mini soft taco-size flour tortilla. Make sure not to overstuff the crunchwrap so it doesn't break apart while it cooks.

Fold the edges of the burrito-sized tortilla towards the center until completely covered.

In a hot skillet, generously spray with cooking spray. Carefully place the crunch wrap seam side down onto the skillet. Cook for 2-3 minutes until golden brown.

Carefully, flip it over and cook the other side until golden brown. Cut in half and serve immediately. Enjoy!
Play Video: Blended Crunchwrap Supreme
Did you make this recipe?
Share a photo and tag us — we can't wait to see what you've made!