Vegetable Frittata

Print
Vegetable Frittata
Author:

Yield:

12

Category:

Breakfast, Main
---
Description
This vegetable-filled dish is the perfect excuse to invite family and friends over for a leisurely brunch, or dinner.
---
Ingredients
5 ounces eggs* (12 large)
1/2 ounce basil leaves (12), chopped
2 tablespoons Italian parsley, chopped
1/2 teaspoon kosher salt
1/2 teaspoon freshly ground pepper
2 tablespoons olive oil
2 tablespoons garlic, minced
4 cups yellow squash slices (1/4 inch thick)
4 cups zucchini slices (1/4 inch thick)
3 cups red bell peppers, thinly sliced
3 cups crimini mushrooms, sliced
1 cup green onions, sliced
6 ounces goat cheese, crumbled
---
Instructions
Preheat broiler. Whisk eggs, basil, parsley, salt and pepper in bowl.
Heat 1 tablespoon olive oil over medium heat in each of two (12-inch) oven-proof nonstick pans.
Stir into each pan half the garlic, yellow squash, zucchini, red peppers and mushrooms.
Cook, stirring occasionally, until vegetables are tender, about 8 minutes. Add green onions; cook 3 minutes.
Pour half of the egg mixture into each pan. Cook eggs until set, about 3 to 4 minutes.
Sprinkle half of the goat cheese over each frittata. Broil 5 to 7 inches from heat until slightly puffed, golden, firm throughout, and thoroughly cooked, about 3 minutes.
Allow frittata to set 5 minutes before cutting each into 6 wedges. Serve immediately.
---
Notes
*If using frozen or liquid whole egg product.
If you like this, try these:
This recipe uses a blend of lean ground turkey and white button mushrooms to create a hearty filling for tender sweet potatoes. Skip the oven and simply microwave the potatoes until tender for a quick dinner. Pair with a simple salad for a meal.
view Recipe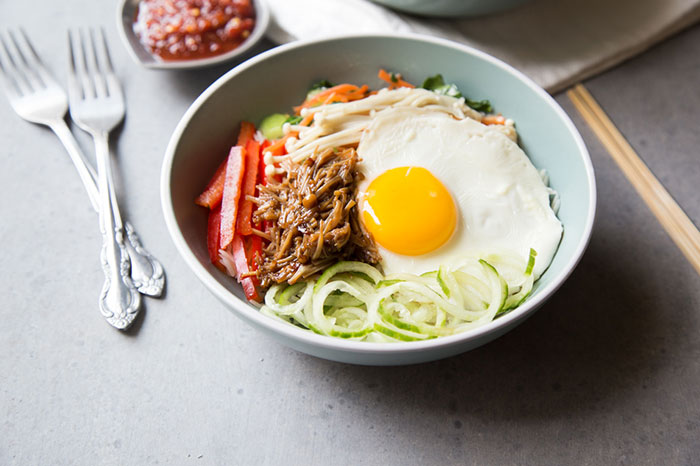 This recipe provides a meat-free twist on the traditional Korean dish. Finely chopped enoki mushrooms absorb the sweet and savory flavors of the marinade and pair well with the combination sautéed greens and crisp fresh cucumber to create a filling meal.
view Recipe
A flavorful mix of crimini, shiitake, and white button mushrooms are sautéed in a crisp, dry white wine before they are layered on the pizza with mozzarella cheese.
view Recipe