Articles
Did You Know Mushrooms Could Do That?
You know them for the delicious flavor they add to chicken marsala, stir-fries and pastas, but mushrooms are capable of so much more. They're about as versatile as veggies can get and have some delicious uses you may never thought of.
Another perk of mushrooms? They're gentle on the planet. In fact, researchers have noted mushrooms can be considered "one of the most sustainably produced foods in the United States." So when you're enjoying the creative, mouth-watering recipes below, you can feel good knowing you're doing the earth a favor too. 
Now let's dive into some out-of-the-box ways to enjoy the mighty mushroom. 
Meat Alternative 
When you want to make a meatless meal, mushrooms make a great substitute. They have a meaty texture and umami flavor so you don't have to miss out on either. 
Don't want to go full-on meatless? Mushrooms can also help you lighten up your meals when you blend them with ground meat. This technique amplifies the flavor of recipes and can add a full serving of veggies without sacrificing any of the deep, meaty texture you crave. 
Jerky
Yup, mushroom jerky is a thing. And it's delicious! It's super easy to make and is a great healthy snack to reach for between meals. 
Try the Shiitake Mushroom Jerky recipe.
Scallops 
Grab some trumpet mushrooms, slice them up and make easy "scallops." With nutty, caramelized brown butter and vibrant thyme drizzled over the top, you'll think you're dining in a fancy restaurant when you taste this vegetarian dish.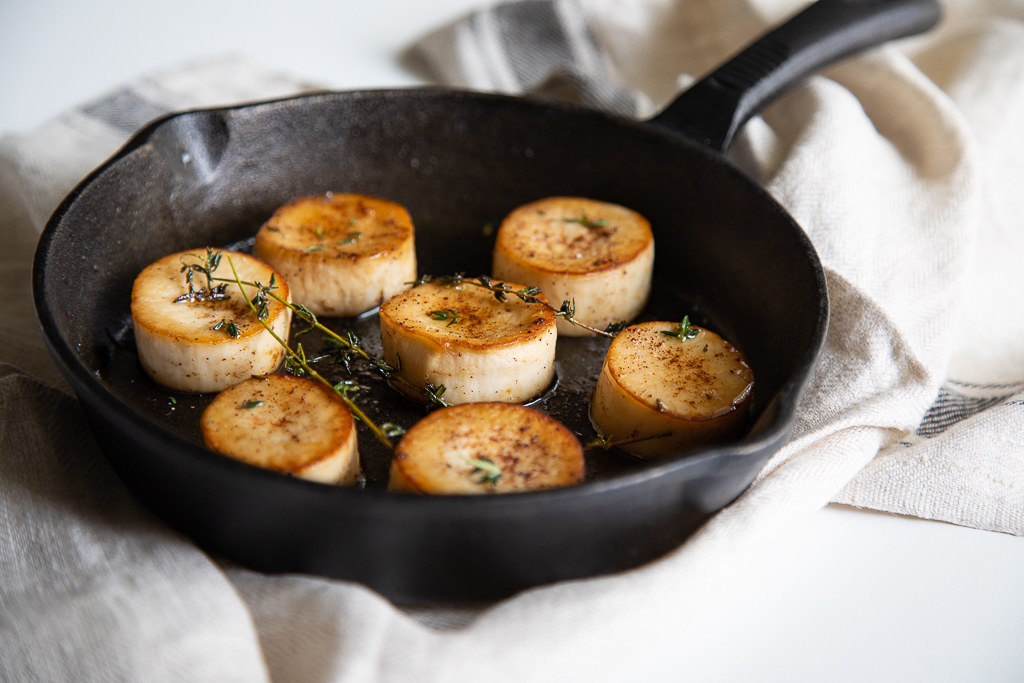 Try the Mushroom Scallops recipe.
Bowls
Bread bowls? How about mushroom bowls! Large portabella caps can serve as an edible serving bowl for recipes like winter salads, soups and stews. You'll even score bonus points for presentation. 
Try the Winter Salad Stuffed Portabella Bowl recipe.
Pizza Crust
We know what you're thinking. "Do they mean pizza topping?" Nope, pizza crust! While mushrooms definitely make a delicious pizza topping, portabella caps can also be used as a hearty, low-carb pizza "crust."
Try the Pesto Portabella Pizza recipe.
Veggie Burger
Not all veggie burger patties need long, complicated recipes. In fact, the best ones have just one ingredient: portabella mushrooms. 
Try the Grilled Portabella Burgers recipe.
Bacon
In the spirit of meat alternatives, mushrooms also make a tasty alternative option for bacon. Add "bacon bits" to your Brussels sprouts for a 100% veggie dish that has a meaty, bacon-y flavor.
Try the Roasted Brussels Sprouts with Baby Bella "Bacon" Bits recipe.
Got any other creative ideas for cooking with 'shrooms? Share with us on social!