Articles
5 Healthy Foods To Keep On Your Grocery List
POV: You go to the grocery store hoping to walk out with a cart full of food that will support your health and immunity so you can crush your nutrition goals. But once you step through the doors, you're bombarded with endless choices, labels and claims on every box, package and display. Which foods will actually give you the nutrients you're looking for?
Don't fear! We've identified five healthy grocery staples you can always add to your cart, knowing they contain important nutrients that support healthy immunity.
Grocery Staples to Support Healthy Immunity
1. Mushrooms: Of course our list begins with mushrooms! These delicious gems of the produce aisle are super versatile in the kitchen and good for you too. They can be enjoyed whole, sliced or diced; cooked on the stove, in the oven or on the grill; added to breakfast, lunch or dinner. You'll never run out of uses for them! Plus, they contain the antioxidant selenium, which protects the body from infection and damage caused by free radicals.1
Crimini mushrooms are an excellent source of selenium! Just four crimini mushrooms contain 20.8 mcg of selenium, 38% of the Recommended Daily Allowance (RDA).2
Enjoy some criminis with this nutrient-packed weeknight meal of Garlic-Rosemary Butter Roasted Chicken Thighs and Veggies with Mushroom Orzo Risotto.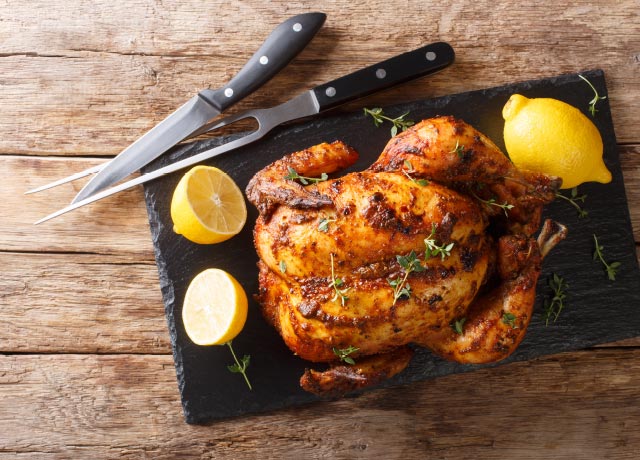 2. Lean Meat: From turkey and chicken to beef and pork, lean meats and poultry have a lot to offer a balanced diet. They're not only sources of protein, they also contain important nutrients for immunity like zinc, which helps the body fight off invading bacteria and viruses.3
One 3-ounce serving of 93% lean, 7% fat ground beef (pan-broiled) contains 5.4 mg of zinc which is 36% RDA4 making it an excellent source of this immune-supporting nutrient. Lean ground beef is also a perfect ingredient to pair with mushrooms when using The Blend™. Give it a try with these Asian Lettuce Wraps.
3. Leafy Greens: There's a reason people say, "Be sure to eat your greens!" They're packed full of vitamins and nutrients like vitamin A, which is a fat-soluble vitamin that supports healthy immune function as well as helps organs such as the heart, lungs and kidneys work properly.5
Just 2 cups (60 g) of spinach contains 282 mcg of vitamin A, 31% RDA!2 Enjoy a delicious spinach and mushroom-filled meal with this recipe for Creamy Spinach, Mushroom & Lasagna Soup.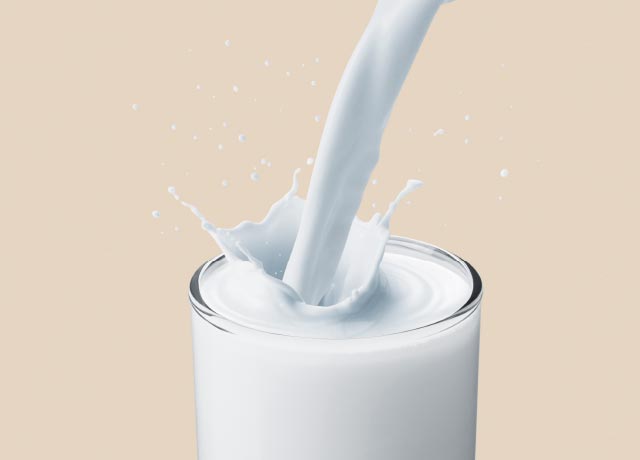 4. Fortified Milk: It's more than a cookie's best friend. Milk is typically fortified with extra nutrients like vitamin D, which helps build and maintain strong bones by helping the body absorb calcium.6
One 8-oz. serving of fortified 2% milk contains 2.5 mcg of vitamin D, 13% RDA.2
5. Beans: You probably throw them in your chili already, but did you know how much good beans can do your body? They contain important nutrients like iron, which helps make hemoglobin, a protein in red blood cells that carries oxygen through your body, and myoglobin, which provides oxygen to muscles.7
One cup of cooked white beans contains 6.6 mg of iron, 37% RDA.2 Try this tasty White Bean Dip for a fun, nutritious appetizer.
Picking The Perfect Mushroom
If you're ready to hit the grocery store but not quite sure what to look for when it comes to mushrooms, watch the video below for some quick selection tips.
Learn more about how to feed your immune system with key nutrients here.
1 https://ods.od.nih.gov/factsheets/Selenium-Consumer/
2 U.S. Department of Agriculture, Agricultural Research Service. FoodData Central, 2019. fdc.nal.usda.gov.
3 https://ods.od.nih.gov/factsheets/Zinc-Consumer/
4 https://www.beefitswhatsfordinner.com/nutrition/beef-nutrients
5 https://ods.od.nih.gov/factsheets/VitaminA-Consumer/
6 https://ods.od.nih.gov/factsheets/VitaminD-Consumer/
7 https://fdc.nal.usda.gov/fdc-app.html#/food-details/175203/nutrients