Articles
6 'Souper' Ways to Start the New Year
Comforting mushroom soup recipes for National Soup Month
January: The magic of the holidays has subsided but the snow is still falling, the temps are still freezing, and it's back to school and work. There's no better time than right now to embrace all things warm, cozy and healthy. Enter National Soup Month. 
Mushrooms are a universal champion of soup season. Rich and creamy? You got it. Light and spicy? No problem. The mighty mushroom can fit whatever style of soup you're craving. Plus, their earthy flavor and meaty texture add depth to each recipe that will fill you up without adding any fat, sodium or cholesterol.
There's no doubt about it, soup is a winter survival food. Start your new year on the right foot with these 'souper' six soup recipes. 
6 'Souper' Mushroom Soup Recipes
Rustic Oyster Mushroom and Potato Soup
A smooth and buttery broth gives a luxurious texture to this hearty soup loaded with mushrooms and potatoes.
Easy Mushroom Soup
This easy soup takes just 25 minutes to make! The smooth, velvety broth and a few simple seasonings complement the earthy flavor of chopped mushrooms.
Thai-Style Coconut Chicken Soup
Are you a fan of global flavors? This soup recipe brilliantly incorporates Thai-inspired ingredients like lemon grass and coconut milk for a delicious experience you just can't get out of a can.
Shiitake Mushroom Ramen To Go
Celebrate Soup Month wherever you go with these portable soup jars filled with earthy shiitake mushrooms, veggies, noodles and a rich, flavorful broth.
Roasted Mushroom Parsnip Soup
This soup is so creamy and rich, you won't believe it's dairy free! Filled with mushrooms, parsnips, leeks and comforting seasonings, this soup is perfect for lunch or dinner.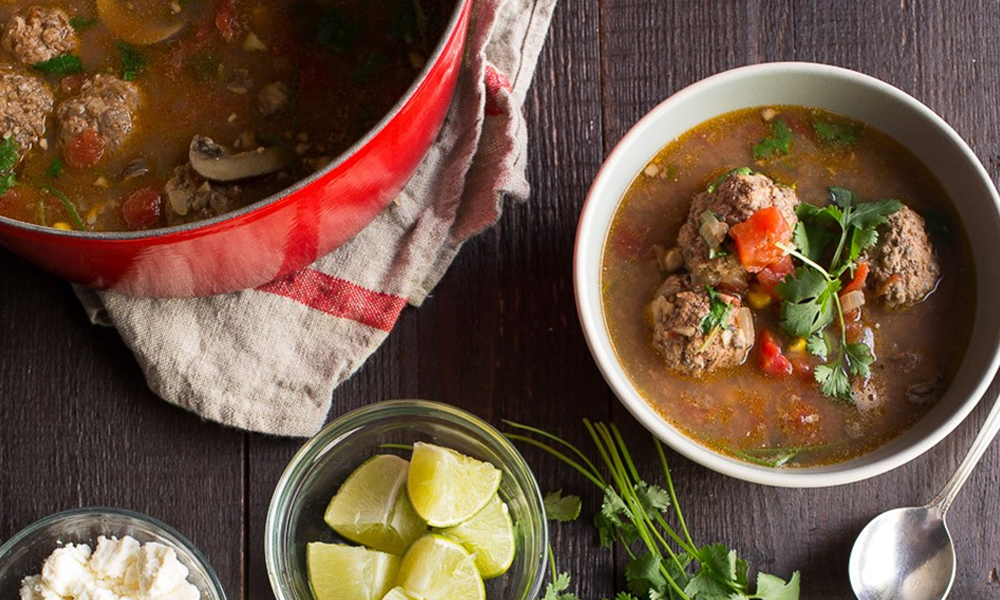 Mexican Mushroom Meatball Soup
Everything you love about Mexican cuisine is right here in this tasty soup recipe, from jalapeno and lime to avocado and cotija cheese. Plus, the blended meatballs provide a hearty, protein-packed base.
Love this blended recipe? Make sure you're signed up for our Blenditarian® E-newsletter to get more recipes and tips using The Blend™!