Articles
6 Varieties, Recipes and Fungi Facts to Celebrate Mushroom Month
It's our favorite month of the year: Mushroom Month! To celebrate, here are a few fungi facts to remember why we have "mushroom" in our hearts for nature's hidden treasure:
Mushrooms are full of umami – the fifth basic taste after sweet, salty, bitter and sour. Umami is derived from the Japanese word meaning "delicious."
From crunchy enoki to meaty portobellos, mushroom varieties offer a range of flavors and textures.
Mushrooms are the only source of vitamin D in the produce aisle. One serving of UV-exposed crimini mushrooms can provide you with 1086 IU of vitamin D.
All mushrooms deliver beneficial nutrients such as copper, selenium and B vitamins, but did you know that

different mushroom varieties offer different health benefits

?

Mushrooms are gentle on the planet

: Up to one million pounds of mushrooms can be grown on just one acre of land.

Mushrooms + Meat = The Blend – one of the easiest ways you can make your favorite meals more delicious, nutritious and sustainable.
What's your favorite mushroom variety and recipe? The six recipes below each feature a different variety – try them all this Mushroom Month!
6 Recipes for Mushroom Month

Use white button mushrooms, hummus and olives to create umami-packed stuffed mushrooms.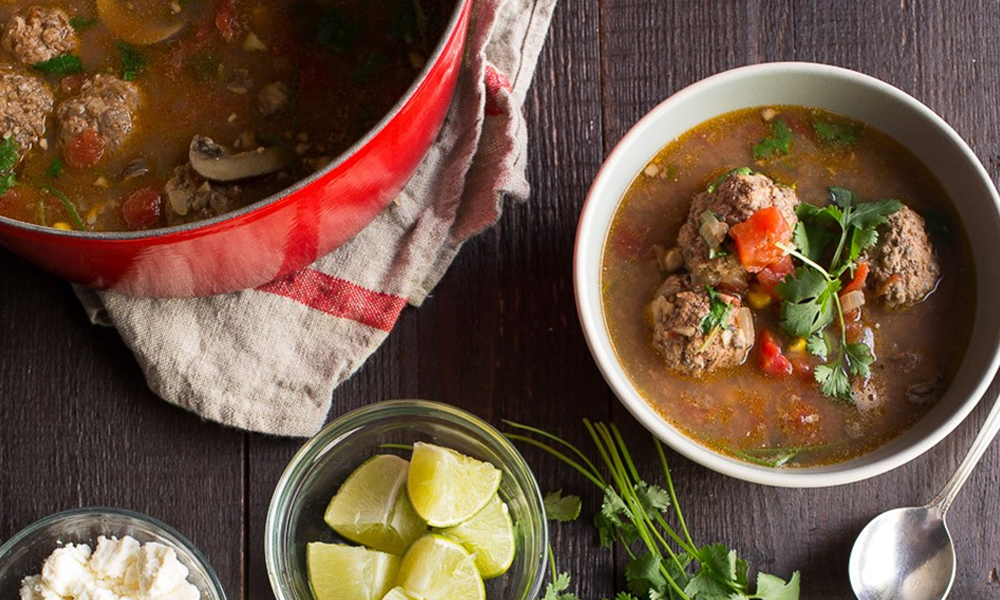 Blend crimini mushrooms with beef and pork to create savory meatballs in this hearty, full-bodied Mexican-inspired soup.
Portobello mushroom burgers are marinated in a homemade barbecue spice mix and grilled until tender.
This blended burger combines maitake mushrooms with ground beef and bacon, smothered in buttery tomato sauce.
Dinner is served with this easy Asian stir-fry that combines shiitakes, steak and snow peas.