Articles
Keep Your Menu Fresh With Mushrooms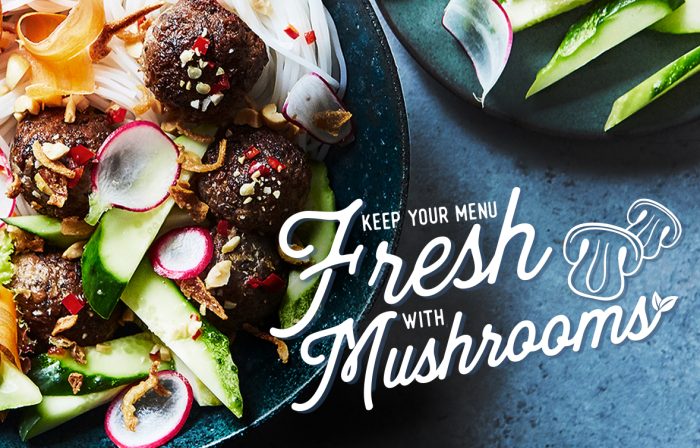 'Tis the season for fresh and flavorful recipes. Backyard gardens are coming to life and farmers markets are filling up with produce, so it's no surprise June is Fresh Fruits and Vegetables Month.
Mushrooms are often grouped in the vegetable category for dietary recommendations, but they're actually not a fruit or vegetable at all. They're fungi, which are so distinct in nature, they're classified as their own kingdom. Despite their regal status, mushrooms can be found on the shelves of just about every produce aisle along with their produce peers.
As you freshen up your menu with fruits and veggies this month, don't forget mushrooms. Here are three quick tips for adding mushrooms to your menu:
Toss meaty portabellas on the grill to top your summer salads.
Mix diced white buttons with ground meat to lighten your favorite burger (check out more burger news below!).
Sauté sliced criminis for a punch of flavor on your morning toast.
Get started with the fresh summertime recipes below.
Fresh Mushroom Recipes
Marinated Mushroom and Chickpea Salad
Enjoy this refreshing salad on the side of your next meal or let it take center stage as the main dish. This is also a great recipe to make and take on a picnic.
Blended Mushroom and Bison Shawarma Bowls
What more could you want in a bowl? Fresh veggies, lean ground bison blended with mushrooms and hearty grains are harmonized by a blend of flavorful spices and topped with a homemade yogurt tahini sauce.
Herb Roasted Mushrooms
Sprinkle fresh crimini mushrooms with a few herbs, drizzle with olive oil and lemon juice, and bake in the oven for a simple side dish that will complement any meal.
Hummus Toast With Marinated Mushrooms
Prep the mushrooms in the morning and let them absorb the flavorful marinade while you start your day. Then, add them to a slice of toast with hummus, olives and feta, and enjoy this satisfying recipe for lunch.
Mushroom Veggie "Meatballs" and Zucchini Pasta
Substitute fresh zucchini noodles for pasta and top with flavorful mushroom "meatballs" and tomato sauce for summer's version of spaghetti.
Taco Lettuce Wraps
In this lighter take on tacos, lean ground turkey is blended with finely chopped mushrooms and topped with fresh homemade pineapple strawberry salsa and avocado crema.
Love this blended recipe? Make sure you're signed up for our Blenditarian Enewsletter to get more recipes and tips using The Blend!